Managed Account Research offers over 200 professionally managed trading programs, from commodity, energy and index trading, to diversified or sector specific.

Let our knowledge help be the key to your success...

For that reason, Managed Account Research invests heavily in thinking, in creating and in sharing knowledge. It underpins our service offerings and integrates our capabilities. It is what differentiates us as managed futures specialists, and what keeps our clients at the forefront of developments within this sector of alternative investments.

OUR SERVICE OFFERINGS ARE CUSTOMIZED TO THREE DISTINCT AUDIENCES:
The First Time Investor in Managed Futures
The Seasoned Investor Who Already is Familiar with Managed Futures
The Institutional Investor/Allocator
Managed Account Research's investment process seeks to match client goals and risk tolerance with the development of a customized investment strategy in managed futures. This process involves the following steps:
Ongoing Research of the Managed Futures Universe


Qualitative and Quantitative Research Tracks


Client Investment Strategy and Mandate


Portfolio Design Matching Client Goals with Opportunities


Ongoing Monitoring and Risk Management Advice


General Account Administration and Reporting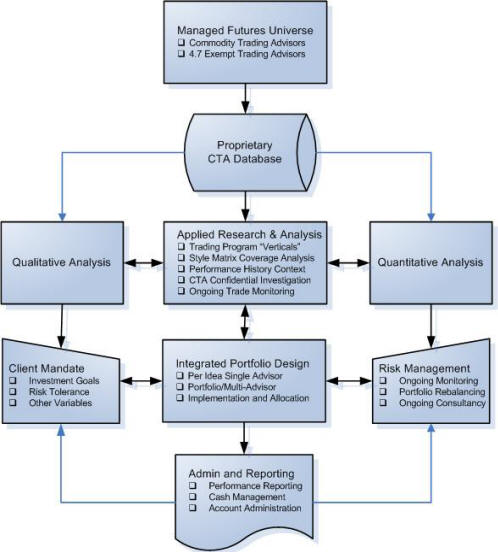 The combination of these processes is continual with client education and involvement key. Succeeding in managed futures investing requires commitment and experience, and this is what Managed Account Research is all about. Our guiding hand can go a long way towards helping investors understand the complexity of this investment, the formulation of reasonable investment goals and the application of risk management.
Your First Step in Managed Futures
Managed Account Research actively promotes thought leadership in managed futures by sponsoring qualitative research. To subscribe to our research, contact us at (800)308-1495. Questions and suggestions can be directed to Research.
Register for FREE ACCESS to the CTA Database, Online Research Reports and In-depth Qualitative Analysis on approximately 250 Commodity Trading Advisors (CTA), managed futures and alternative investment programs.